Has your car met with an unfortunate accident? Is it some minor dents and scratches but you want to sell it off for the bad memories? Or has it been so damaged that the cost of repairs will be sky high? Don't worry at all. At Cash For Junk Car, we get you the best Accident Car Removal offers. Even if you think that your vehicle has no value, it is useful to us.
Call us at 0434 500 716 for Accident Car Removal
We don't discriminate on the make, model, design and the extent of the damage. Rather than going through the trouble of repairing it and selling it, come to us. This is because you will lose both money and time in advertising, finding customers and convincing them to buy. What's more, we'll give you top cash for your accident damaged car.
What You Need to Know About Our Accident Car Removal Service?
It can be your personal car or your fleet of business trucks, vans and utes. They can be slightly or heavily damaged. The doors can be missing, the engines and gearbox removed. The seats can be ripped off and the inside completely wrecked. It can be gutted or flooded in a natural calamity. We take vehicles of all shapes, sizes and
conditions.
If you're wondering what do we do with a damaged car, we usually wreck it for the scrap metal. This is done using sophisticated technology to prevent any environmental damage and pollution. This is a profitable business and we let our customers have a share of it. However, if the damage is very light, we might consider repairing it and reselling. We also offer more cash if you can show us the necessary maintenance records.
How to Dispose of Your Car Through Accident Car Removal?
This consists of a few simple steps. We have noted them down for you.
Free Quotes On Call – If you want to get an estimate for your vehicle, you can call us anytime. Our expert auto appraisers will evaluate the extent of damage and then quote a price. You can either agree or reject it. If you agree, we'll fix a time and date according to your convenience.
Scheduled Towing Service – We offer completely free towing for Accident Car Removal. You just need to keep the car in an accessible location so that it can be towed away easily. A final survey is done on the vehicle before we take it away.
Hassle-free Paperwork – To make the transaction legal, you need to put a couple of signatures on some papers. We will arrange all the legal work and you just have to keep your registration papers and photo ID ready. This will save time and make the process easier.
Cash In Hand – After all legal formalities are completed, we will hand over the cash to you. We don't like to keep you waiting for a cheque in the mailbox or an online money transfer. You get the money right at that instant and we will leave after that.
Why Choose Us for Accident Car Removal?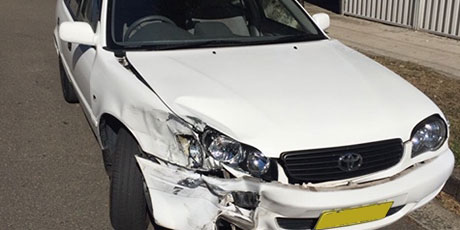 Certain qualities make us your No. 1 choice for Accident Car Removal in your area. What are those?
A licensed and insured company. This means all our transactions are safe andsecure.
We are available 24*7 for you. Call us at a time of your convenience.
Our cash offers are unparalleled in the whole of Sydney.
We have a very quick response time and reach you as soon as you call us.
Our free quotes on-call are always the right price for your car.
We have a team of professional staff and guarantee 100% customer satisfaction.
So, don't worry if your car has been damaged in an accident. Help us remove it for you and get paid for it as well. Call Cash For Junk Car at 0434 500 716 for Accident Car Removal.