Make Fast Cash with Scrap Car Removal
If you are looking for a quick and easy way to remove your scrap car in Sydney, we at Cash For Junk Car offer a better way to dispose of your unwanted vehicle. Our Scrap Car Removal services will ensure that you get money on the spot when you are finally ready to junk your crappy automobile. This is totally better than dumping it off by yourself at a local scrap yard because you don't have to pay towing fees. Instead, you turn scarp into cash because we will buy that scrap vehicle from you.
CALL 0434 500 716
For Quick Scrap Car Removal in Sydney
At Cash For Junk Car, we understand that many people have damaged or wrecked vehicles sitting in their garages, taking up space and collecting dust. These cars can be ridden with broken mechanical parts, rusted, flooded, fire-damaged, broken, beyond repair due to an accident, and more. No matter your reason, we will not refuse to give you a quote if you get in touch with us. It is our mission to help you get rid of these scraps that weigh you down.
Since these scraps are already problematic, with some of them not even running anymore, removing them off your Sydney property makes it a bit complicated. Remember a scrap car is a money trap. Both repairs and towing services are quite expensive, so it really doesn't make sense if you spend more money on this old clunker of a vehicle. But, hey, no worries because we will get these off your hands even. We are committed to providing the best and aim for the same day service.
We Are a Licensed Scrap Car Removal Company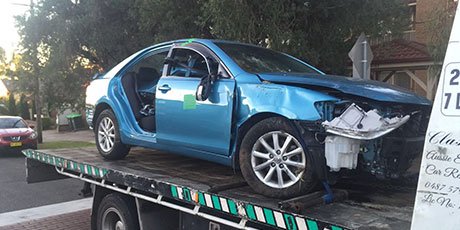 We at Cash For Junk Car are a licensed company that's ready to serve you no matter which suburb your vehicle is in Sydney. We also serve nearby areas to make it convenient for you. You won't find a better company that offers the highest cash value for all types of cars. It could be a Japanese, Korean, American, or European brand. You name it, and we shall get it. The model, brand, age, and condition of the vehicle do not matter to us. It can be a car, truck, van, minivan, pickup, or SUV, and we will get it off your hands. Even if it is not running, we will still offer you money.
Once you touch base with us and give us all your pertinent details, we will make you an offer. Once you accept, you can count on our Scrap Car Removal service to relieve the offensive vehicle from your premises. This eyesore will no longer bother you. We do this service for FREE. Yep, you read that right. Our professional team of technicians will come to where this scrap car is with all the proper tools and equipment to get it off your property with no extra cost.
We Are Eager to Serve You
At Cash For Junk Car, we are excited to serve you and give you an instant cash offer. All you have to do is just call us or get in touch with us here with our online contact form. Our team will be happy to get in touch with you to discuss the specifics of the services you need. Apart from scrap vehicles, we will also take in used, damaged, wrecked, or whatever kind of unwanted automobile.
Get in touch with us, and we will give you a quote. Our specialised services don't come with any hidden costs. We also offer the best price in the industry for your vehicle. Why not take advantage of our junk car removal services? It is time to turn those junk vehicles into cash. Call us to make it happen. Removing junk is our
specialty, while we make it very lucrative for you.
CALL 0434 500 716