Cash For Junk Car is one of the top companies in Sydney offering the best Cash Offers for SUVs and Utes in town. If you own a SUV or UTE that's old or on the brink of collapse, it may be time to let it go, selling it to a wrecker who will recycle and reuse its parts. Your damaged, used SUV or UTE can help a ton of industries, reducing the need to mine new metals. Talk to Cash For Junk Car and help us make this planet a little greener and get you some green, too!
CALL 0434 500 716
We Buy All Brands of SUVs and Utes!
There are various companies selling SUVs and Utes in Australia. The SUV market is led by Toyota, Mazda, Honda, Holden, etc. In Utes, the market is led by Isuzu, Ford, Mitsubishi, Toyota, Nissan, Volkswagen, Holden, and others.
 
However, at Cash For Junk Car, we tend to buy all the brands. Some of our customers have also brought us imported models. We buy all of the mentioned brands and other less famous car brands, as well. No matter what you own, just drop us the details and we will do the rest!
What is unique about selling your SUV or UTE to Cash For Junk Car Sydney?
Our top priority like any other business is customer satisfaction because that is the ultimate goal of every community-focused firm. The way it is achieved can be different and varies from business to business. Our major focus area is our brilliant staff! Along with technical aspects of the recycling and reselling business, our team is also taught the values of courteousness, kindness, and accuracy.
At Cash For Junk Car, our core objective is to make you satisfied with our services so not only you but your family and friends also keep coming back to us for any used car and recycling services in Sydney.
If you want to experience a smooth, safe and hassle-free Cash for SUVs and Utes service in Sydney then give us a call to get in touch with our professionals.
What is the process to get Cash for SUVs and Utes?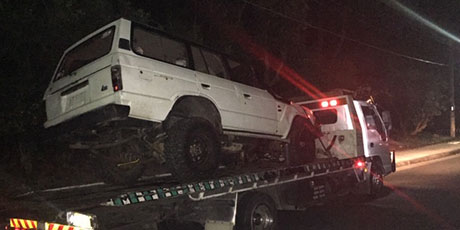 If you have decided to get your SUV/Ute to be wrecked or sold to the removal's services then just get your phone and call 0434 500 716. You will have to give our professionals details of your vehicle so we can get you an accurate quote. 
Once we have all the details, our team would provide you with the quote.
All you need to do is accept the quote and that would be it! If you are happy with the quote (remember we won't have any hidden charges!) then the team would reach your place at a time of your convenience for SUV or Ute removal. Make sure you keep the paperwork and identification document ready to make the process super quick.
Our experts at Cash For Junk Car tend to work in a very smooth manner to get your SUV/Ute removed without even letting your immediate neighbourhood know about it! No noise, no worries!
Get cash for your SUV or UTE at your doorstep within the same day of your acceptance of the quote.
Get in touch with us
To get the best car removal, wrecking, and recycling service in Sydney, call Cash For Junk Car right away at 0434 500 716. You can also reach out to us via our online 'Get A Quote'form.