Cash For Junk Car is your car buyer that offers the best Cash For Cars in Sydney. If you have a car that's beyond repairs, keeps breaking down on you or is just useless and taking up space in your garage, you can sell it quickly and for top cash with us.
Give us a call today to get a 'Cash For Cars' quote for your vehicle.
CALL 0434 500 716
The Ultimate Cash For Cars Service in Sydney!
Cash For Junk Car is a car wrecker and buyer that buys cars of all makes and all different conditions. We are committed to making it easy for customers to sell their cars. Forget about the time-consuming, cost-intensive car selling process. You no longer have to dread the thought of selling your car. Instead, we make it exciting and hassle-free for you to turn your old or scrap car into top dollar!
Our Cash For Cars offers are made after taking the following factors into consideration:
The make of the vehicle
The model of the vehicle
The year of manufacture
The VIN (Vehicle Identification Number)
The odometer reading
A detailed breakdown of the condition of the vehicle
We Will Buy Your Car – Whatever Its Make, Model or Condition
Your car's make is no deterrent to us. We accept all makes be it Korean, Japanese or German. Get cash for your:
Toyota
Kia
Suzuki
Renault
Ford
Chevrolet
Nissan
Renault
Skoda
Mitsubishi
Holden
Mazda
Volkswagen
Hyundai
Honda
Audi
BMW
And more
The condition of the car is another factor that keeps people from trying to sell their cars. After all, who's going to be interested in buying a junk car? Cash For Junk Car, that's who! We will pay cash for:
Unwanted cars
Old cars
Wrecked cars
Junk cars
Written off cars
Water damaged
cars
Unregistered cars
Weather
damaged cars
Accident cars
Used cars
Scrap cars
Rust damaged
cars
Cars with missing
parts
Come to The Experts for The Best Cash for Cars Offer in Sydney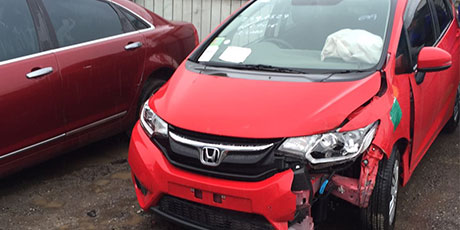 To get the best Cash For Cars offers, you need to trust the experts. At Cash For Junk Car, we're auto wreckers and recyclers with many years of experience in the automotive industry. We will help you get the best value for your damaged or junk car.
With our Free Car Removals offered for customers across Sydney, we make it possible for you to sell your car for cash without having to worry about towing it over to our yard. You don't have to worry about cleaning and polishing the car, taking it to a mechanic to have it fixed up or advertising it to find a buyer. You've got an instant, reliable buyer for your vehicle with us. We will buy your car as it is, whether it's dirty, dusty or damaged. So, get ready for a no-expense car sale that pays top cash!
Contact Us For A Quote Today!
Ready to have your car valuated by the experts? Give us a call on the number below. Our quotes are quick and accurate. Since we've been doing this for a long time now, we have the experience and knowledge to provide you with quick quotes that are fair. Combine that with our Free Car Removals and Free Paperwork, selling your car has never been this easy! Oh, did we mention that we let you choose the date and time for the car removal? That's right, you just need to let us know when it's convenient for you and we'll come then to collect the car, get your signature on the forms and pay the agreed upon cash amount.
Call us on 0434 500 716