Specialists Turning Trash into Treasure!
Everyone knows that a brand-new vehicle loses 20% of its value the moment you drive it off the car showroom, and it will continue to lose more value as time goes by. When you've got a dilapidated vehicle sitting right in your Sydney garage consuming space, call a reliable Junk Car Removal service like us. At Cash For Junk Car, we will turn your trashed, old, and beat up automobile into cold, hard cash within seconds.
CALL 0434 500 716
Why Give Us a Call
When a vehicle gets too old, it becomes very difficult to maintain. Its servicing requirements jut demand so much money for repairs that it becomes a huge financial burden. Selling a pre-loved vehicle in the second-hand market is also hard to do these days. Even when you fork out expensive advertising costs, you may still not get a buyer. On top of that, with your busy schedule, we know you don't have the time to take prospective buyer's out on a test drive.
In addition, some old automobiles just no longer serve their purpose. With our premium Junk Car Removal service, we will provide you with the convenience of disposing of your junky clunker that probably will no longer start. At Cash For Junk Car, we offer money for all type of unwanted autos. How convenient is that?
What We Offer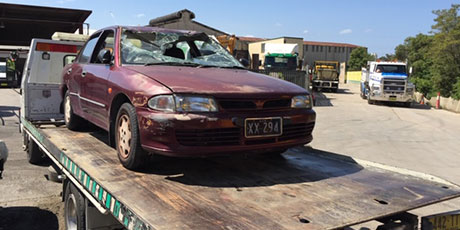 We take pride in our service because, at Cash For Junk Car, we never refuse anyone. We are a licensed company with all the necessary permits. We are a reputable auto buyer that has been serving the industry for years. We are legit automobile buying and wrecking company with a long list of happy clients. Our primary objective is never to deny any car, sports utility vehicle, mini-van, large van, truck, or even motorcycle owner like you, so you can cash in for your unwanted vehicles.
Our team of professional junk car removal specialists aim to provide honest and trusted services. Unlike other companies that lowball you, we make it our goal to provide the best cash value for any vehicle. When you are feeling frustrated because your vehicle no longer serves its purpose, we will come to you with all the necessary tools and equipment so we can take that automobile out of your garage. You can rest assured that we purchase all brands, models, ages, and conditions of the vehicle.
Best of all, the removal service is free. We will get your annoying vehicle that's an eye-sore in your garage, and take it away free of charge. Imagine improving the curbside appeal of your property. We will even give you cash for it while dealing with all the necessary paperwork. You offload the burden to us, and we do our utmost best to satisfy all your needs.
Who We Serve
At Cash for Junk Car, we serve all the suburbs of Sydney. This includes Avalon Beach, Bankstown, Earlwood, Darlinghurst, Darling Point, Lovett Bay, Rockdale, and more. We take the following kinds of vehicles:
Body Damaged
Broken
Dented
Dinged
Fire
Flooded
High Mileage
Junk
Low Mileage
Mechanical Problems
Rusted
Salvaged
Scrap
Used
Wrecked
We never refuse a vehicle in any condition.
Why Give Us a Call
Get in touch with us at our office number or contact us here with our online form. Our team of representatives are always looking forward to serving you. We just ask for a few details regarding your vehicle and contact information. With that, we'll make you an offer, and when you accept it, we can give you the money and remove
your car when it is convenient for you. Don't let that junk car mess up your property with its annoying presence. With our help at Cash For Junk Car, we turn that trash into treasure.
CALL 0434 500 716