Cash for Cars Northern Beaches Region
Having a hard time finding buyers for your rundown vehicle? Well, worry no more! We are just the Cash For Cars company you need in the Northern Beaches Region. Cash For Junk Car is an unwanted car removals business in Sydney that helps customers like you to get rid of that vehicle that no longer functions like it once did.
CALL 0434 500 716
We Service All Suburbs in The Northern Beaches
Want a Free Car Removal in the Northern Beaches Region? We've got you! We service the following suburbs:
Seaforth
Balgowlah
Manly
Harbord
Collaroy
Dee Why
Brookvale
Narrabeen
Warriewood
Mona Vale
Bayview
Newport
Avalon
Receive the best Cash for Cars Offers in the Northern Beaches Region!
Finding the right Car Removal Company in the Northern Beaches can be a tedious process. We realise that our customers have tight schedules and that spending an extra load of money on trying to sell their cars is not an option. This is why we are here to tell you that we do not require you to spend a single dime on your vehicles in order to sell it to us. We accept vehicles of all shapes, sizes, makes, and models. We accept all brand names including but not limited to:
Toyota
Honda
Hyundai
Mazda
Nissan
Renault
Kia
Skoda
Lexus
Volvo
Subaru
Isuzu
Mitsubishi
Volkswagen
Fiat
Ford
Jeep
Land Rover
Range Rover
Holden
Chrysler
Chevrolet
Alpha Romeo
Suzuki
Peugeot
Hino
The process of selling your unwanted vehicle to us is fairly simple. You can start by giving us a call at 0434 500 716 and providing us with the details of your vehicle. We do not need to schedule a separate day to meet up with you in order to appraise your vehicle's worth. 
Our team of experts can determine the worth of your car via call and give you the best quote there is in line with the latest market prices. We are transparent in our dealings and will explain the entire procedure to you clearly, not leaving anything out. 
Along with the condition of the vehicle, its components also help us appraise the vehicle correctly. If your car has many working parts in good condition, you can expect to receive a higher cash offer than if the vehicle was worn out with debilitated parts that are of little use.
We are the most efficient and transparent Cash For Cars Company in the Northern Beaches Region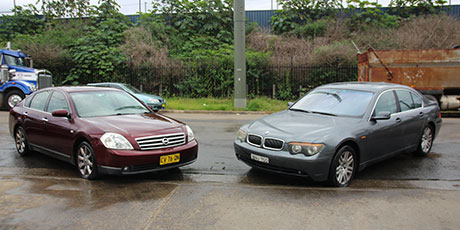 Cash For Junk Car has made customer needs its highest priority. We do not delay the car removals procedure nor do we burden our customers with tedious paperwork and complicated processes. 
With us, once you have decided to take us up on our offer, you have to worry about nothing but receiving your cash the second we have your vehicle. We also provide free towing services and thus, you need not worry about spending a single dime as the vehicle is removed from your place. 
Furthermore, we accept cars in all conditions. That is, if you are worried that no one out there would be ready to buy a wrecked, scrap, or damaged car, then stop worrying today and contact us because we buy all sorts of cars.
Top Cash for Cars and Eco-Friendly Car Disposals in the Northern Beaches Region
What makes us even better is that we keep all processes environment friendly. We do not dump the scrap parts of a vehicle that can't be salvaged into landfill sites. The useful parts we obtain are sold to the manufacturing industries as raw materials, which help save an immense amount of resources and energy. This helps preserve the earth's finite energy resources and Cash For Junk Car and your unwanted vehicle has a major role to play in this.
Cash for Cars in Northern Beaches is Just a Phone Call Away!
Storing up unwanted vehicles can prove to be a great safety risk. Also, why would you want to store up a useless vehicle when you could make good money out of it? Avail our amazing Car Removal services in the Northern Beaches today by giving us a call at 0434 500 716