Do you have an unwanted vehicle in your garage that's taking up space? Do you like the sound of an instant Cash for Cars sale for your vehicle? We are Car Wreckers in Sydney who buy and wreck all types of vehicles. Not only do we offer top cash for cars, we also offer same day car removals and instant cash payments, so you can turn your old car into cold cash today!
Call us for a free car valuation on 0434 500 716
Selling Your Vehicle to A Car Wrecker – What You Need to Know
When a car is heavily damaged or is nearing its end, the best option for the car owner is to sell it to a reputable Car Wrecker. Why do wreckers buy old and damaged cars? Well, we have our wrecking yard where we dismantle and recycle cars of all conditions. So, even if your car's in scrap condition, we see value in its scrap metals and are willing to pay you cash for it. Finding a buyer for your scrap car in the private market can be an impossible task. But when you contact a reliable Wrecker like Cash For Junk Car, you car will be sold almost instantly – and you'll get the best possible cash for it.
Free Car Removals and Wrecking in Sydney – We Come to You!
Is your scrap car being a nuisance to you? Are you looking for a quick way to dispose of your car without having to pay towing fees or pay for car wrecking? What if we told you we'll come collect your car for free and take it to our yard for wrecking and recycling – and charge you nothing at all for those services? Can't believe it? You better, because that's exactly what we offer. Get Free Car Removals and Car Wrecking Services wherever you're located in Sydney. We cover all suburbs, so give us a call today and we'll send our tow truck to your location to collect the vehicle!
The Top Benefits of Wrecking Your Scrap Car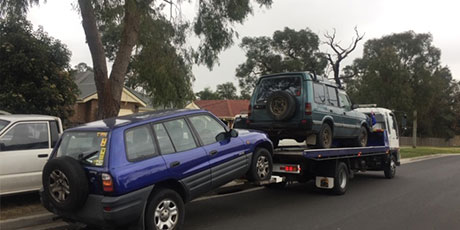 1. You can sell your car without having to spend money on repairs
Car repairs can be expensive depending on which parts need to be fixed or replaced. It makes little sense to spend hundreds of dollars to fix up an old or scrap car that's not worth the cost of repairs. So, in such instances, your best bet is to Sell Your Car To A Wrecker for cash.
2. You are helping the environment
When you sell your car to a wrecker, they will dismantle it, pull parts for reuse and recycle the scrap metals. Since most of the car is recycled or reused, it helps the environment. Imagine if your scrap car ended up in a landfill, rotting away and exuding toxic chemicals into the ground and air? Instead, you're giving a new lease of life to the car and reducing the demand for new metals, which in turn will reduce the need for mining of resources.
3. It's unsafe to keep a neglected car in your garage or driveway
The longer you let a car sit unwanted, the more it deteriorates and becomes a safety hazard to those around. As mentioned earlier, cars can start emitting harmful chemicals when left unused for long periods of time and this can be a danger to plants, animals and humans alike. Apart from that, rusted metal and sharp metal edges can be a further safety hazard for pets and children. Moreover, a neglected car is the perfect home for rodents, insects, bugs and other reptiles. Why take the risk of holding on to a car that's useless to you and that can potentially pose a danger to your family and pets? Get rid of it today with our Free Car Wrecking service.
Contact Us Today
For experienced car wreckers who offer a fast, smooth and stress-free car removal and the best cash offer for your vehicle, contact us on the number below.
CALL 0434 500 716