Have you been using your car for a long time now and want to sell it off? Has the normal wear and tear on the roads of Australia been too much that repairs will be expensive? Cash For Junk Cars is a Used Car Buyer in Sydney that buys cars and other vehicles for cash. Call us today to get an instant quote for your used car.
CALL 0434 500 716
The Best Way to Sell Your Used Car for Cash in Sydney!
Your used car can be beyond repair. It might be unnecessarily occupying space in your garage or driveway. But you might be thinking of giving it a repaint and selling it off to someone. Think again! This will mean spending time and money on the car as well as looking for potential buyers. Not to mention the advertising and bargaining for a decent price. You can avoid all that by just calling us. We offer top cash, instant quotes and Free Used Car Removals in Sydney.
What Cars Do We Accept?
We are Used Car Buyers that accept any and all cars. They can be your personal car or a fleet of vans, trucks and utes for your business. It can be of any make, model, design and can have any sort of damage to it. The car can be damaged in an accident or collided against a wall. The engines and gearbox can be missing, seats can be damaged and can be heavily dented. It can even be gutted or flooded in a natural calamity.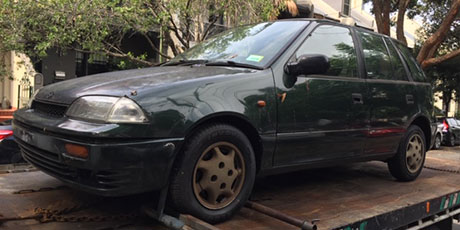 We have a value for the scrap metal. So, we wreck it and extract the metal for selling it off. This is done following all the necessary environmental protocols and using the most modern technology available in the market. We make sure that your surroundings are never polluted from irresponsible recycling.
We pay cash for Toyota, Hyundai, Honda, Kia, Suzuki, Nissan, Mazda, Ford, Holden, Mitsubishi, Renault, Skoda, Chevrolet, Audi, Volkswagen, Lexus, Land Rover, Range Rover and more.
How to Sell Your Car to Sydney's Trusted Used Car Buyer?
Selling your used car for cash is an extremely easy process and we have noted them for you.
Free Quotes – All you have to do is pick up the phone and give us a call. We will note down the make, design, and the extent of the damage. This will then be evaluated by our expert auto appraisers and we'll arrive at a rate. You can accept or reject it. If you agree, we'll schedule time according to your convenience.
Tension-Free Towing – Just keep the vehicle in an accessible location so that our staff can easily tow it away. We never charge any money for this service. A final assessment is done and then we are good to go.
No Extra Charge For Paperwork – To keep the transaction legal and transparent, we need you to sign some papers. Don't be worried, because we do all the arrangements on our own. You just keep the registration papers/ ownership details and a photo ID handy for a seamless experience.
Cash Right At The Moment – Some companies will tell you that they'll send a cheque in the mailbox or wire the money to your bank account. This leads to a lot of hassle and we don't do that. Our personnel carries cash and they hand it over to you at the spot. We leave only after you are satisfied.
Why Choose Us to Be Your Used Car Buyer?
Not all companies have the features that we do. We have enlisted the reasons that make us the leaders of Used Car Removal services.
Licensed and Insured.
24*7 Phone Lines Open.
Extremely Fast Response Time.
Professional & Efficient Staff.
Free Quotes On-Call.
Environment-friendly.
Best Cash Offers.
100% Customer Satisfaction Guaranteed.
Contact us For A Free Quote
Don't waste your time looking for a buyer for your used car. If you have an unwanted car with you and want to get rid of it, call us. Make some quick money as well. Call 0434 500 716 to sell your car to Sydney's most reliable Used Car Buyer.