Cash for Cars Eastwood 2122
Selling your wrecked or unwanted vehicles does not have to be such a chore. Most of us struggle with the decision of whom to sell our cars to. However, now with Cash For Junk Car's unparalleled Car Removals services in Eastwood, you need not worry about anything. We are a licensed company aiming to make the entire Cash For Cars experience in the Eastwood a breeze for our customers. For this purpose, we offer owners of all unwanted vehicles the best prices and services.
Call us at 0434 500 716
We offer instant cash for all unwanted cars in Eastwood
We at Cash For Junk Car keep our entire procedure fairly simple and straightforward for all our customers. We understand how each one of our customers has a whole lot going on their lives and thus, they cannot afford to spend a lot of their time with us. This includes complicated paperwork and excessive processes to prove your eligibility to sell the unwanted car. 
With us, you don't have to worry about any of those things. We deal with all the paperwork ourselves and all we let you worry about is receiving the cash from us as soon as the deal is made and we come to take your car away. With our unique Cash For Car services in the Eastwood, you also need not to worry about any delays or scams in receiving your cash.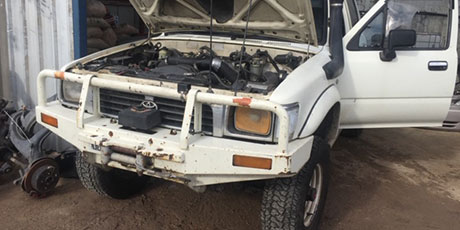 Our experts judge the worth of your car by appraising the health and presence or absence of the various components such as their batteries, air conditioning, engine, tyres, catalytic converters, sound systems, etc. This helps us determine what the best price for your vehicle would be. Being completely transparent in our dealings, we also keep you in the loop about everything. 
To receive a quote for your unwanted vehicle, we do not need to send anyone over to your place to appraise the car. Our team has enough experience to be able to determine this over the phone. Hence, the only time you actually need to spare for us is when we come to tow your vehicle away. Not to mention, our Car Removal Services in the Eastwood are completely free of cost!
We Pay Cash for All Cars in Eastwood
There is no brand of car that you could own that we would refuse to accept. Amongst the many (but not all) brands that we happen to deal in are:
Hyundai
Mazda
Nissan
Renault
Kia
Skoda
Lexus
Volvo
Subaru
Isuzu
Mitsubishi
Volkswagen
Fiat
Ford
Jeep
Land Rover
Range Rover
Holden
Chevrolet
We also accept wrecked cars, accident damaged cars, cars with no engines, scrap cars, and used cars. The point being that we do not distinguish between the conditions of the cars either when purchasing it from our customers.
What makes us stand out even more amongst our competitors is our environment friendly way of dealing with all our processes. We do not carelessly dump useless car parts to pollute the landfill sites even further and we use environment friendly machineries to carry out all our refining processes.
Contact us for a quote today!
Avail our unparalleled Cash For Car services in the Eastwood today by giving us a call at the number below. We work 24/7, so day or night, give us a call to book your Free Car Towing in Eastwood. For a quick car sale and stress-free car removal, Cash for Junk Car is the right choice for you.
CALL 0434 500 716